Assassin's Creed III has a dedicated team working on post-launch DLC, which will be purchasable with a season pass, if a letter addressed to GameStop is authentic.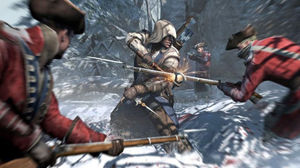 In a letter forwarded to Kotaku by "the Assassin's Creed team", plans for extensive DLC are outed, as well as a planned "Season Pass".
"What's next? We are currently in the process of creating a complementary development team that will begin working on post-launch episodic content to continue the Game of the Year experience that Assassin's Creed 3 will undoubtedly deliver."
The letter continues: "We know you're familiar with the 'Season Pass' concept and, beginning shortly, we'll start to take pre-orders of our very own."
The letter is addressed to GameStop, thanking the retailer for its support reaching AC3's pre-order goals. We can't confirm whether it's legit or not, but you can see the letter at Kotaku. We'll keep you updated.