The first details on FIFA 13 Manager Mode have emerged in the latest round of previews.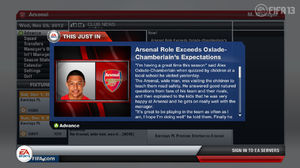 As you'll find out in our in-depth FIFA 13 preview, EA Canada has worked hard this year to ramp up the level of authenticity in the Manager Mode transfer window, completely rewriting the logic behind the deals
The new transfer system factors in aspects such as player form, age, morale, club rivalries and the amount of time a player still has left on their contract.
The biggest addition to the FIFA 13 Manager Mode though is the addition of internationals.
In past iterations of FIFA, players have been able to select international teams for exhibition games and even create their own tournaments to compete in against the AI. However, for FIFA 13, the experience of playing in or managing an international team has been woven into the career mode - provided the player is good enough, that is.
For more details read the full FIFA 13 Manager Mode preview.