EA Sports' FIFA soccer franchise could be enriched by second screen technologies, according to the series' executive producer David Rutter.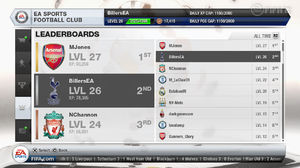 In a newly published interview on CVG, Rutter was asked specifically how the line of FIFA games could be enhanced by the Wii U's additional tablet screen.
"It's pretty exciting actually," the British games designer said.
"I've been talking to a bunch of the guys about the games that they're working on here, and about what they want to do with Wii U or with SmartGlass and stuff like that. And if you look at it from a different perspective, I'm not going to tell you exactly what because it's kind of competitive advantage, I think there were a few kind of 'wow, that's a pretty cool way of looking at it' moments, so that idea of a second screen, I think it has some really, really big positives".
It is expected, though not confirmed, that FIFA 13 will launch on the Nintendo Wii U.
Rutter went on to discuss the Wii U's tablet technology, though he stressed that he was theorising about its potential.
"If you look at FIFA as a game, with Kinect we've got the ability to do tactical changes on the fly with our voices, maybe that's something you could do with that, or maybe you could go a different route, something like Dead Space or any of the other games we're making, there's some really cool things you can do with it."
FIFA 13 launches at retail across the US, Europe and Australia from September 25th. The game is scheduled to be available for PS3, Xbox 360, PC, Mac, iOS, Wii, PS2, Xperia Play, Nintendo 3DS, PS Vita and PSP.