£99 'Super Slim' PS3 to skip Gamescom - report
News
---
16GB PS3-4000 to miss Gamescom announcement, suggests source.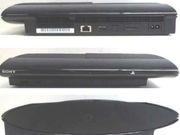 The widely-rumoured PS3-4000 will not be announced during next month's Gamescom, according to a new report.
The new 'super slim' PS3-4000 is rumoured to be the latest model PlayStation 3 in production at Sony, sporting a slimmer design and a top-loading disc tray.
Online whispers suggested that the SKU could be announced during Gamescom next month.
However, VG247 speculates that "stock levels of the current build are said to be too high for Sony to move onto what is probably the last take on PS3 before PlayStation 4 is announced next year," suggesting that Sony may have ruled out a Gamescom reveal for the new unit.
Furthermore, a VG247 source claimed that the 16GB version of the PS3-4000 - of which details first surfaced last week - is real and will use solid state Flash memory.
The unit could retail for as low as £99, the source claims, with the remaining PS3 hardware SKUs seeing an equally "huge price cut".
250GB and 500GB SKUs of the PS3-4000 are also rumoured to be in production.
Whispers of the PS3-4000 first appeared earlier this month when documents filed with the FCC leaked onto the web.